Characteristics Of Cement Brick Making Machine
1. Excellent components: the electrical and hydraulic systems of hot selling qt12-15 cement brick making machine are all top-class configurations, and the main oil supply and electronic control components are imported from Germany, Japan, Denmark, etc., which are easy to operate and have stable performance.
2. High degree of mechanical and electrical integration: the qt12-15 cement brick machine has high degree of mechanization and advanced process design. It adopts the central processing unit of Siemens and dubik detection sensor. Integrate the mechanical body and electrical equipment. The text alarm and so on many prompt functions together with in the microcomputer, when the machinery appears the wrong operation, it can promptly and accurately inform the user the fault reason and the processing method. The qt12-15 cement brick making machine in stock is simple to operate, easy to learn, with high efficiency, energy saving, economic, practical and other characteristics.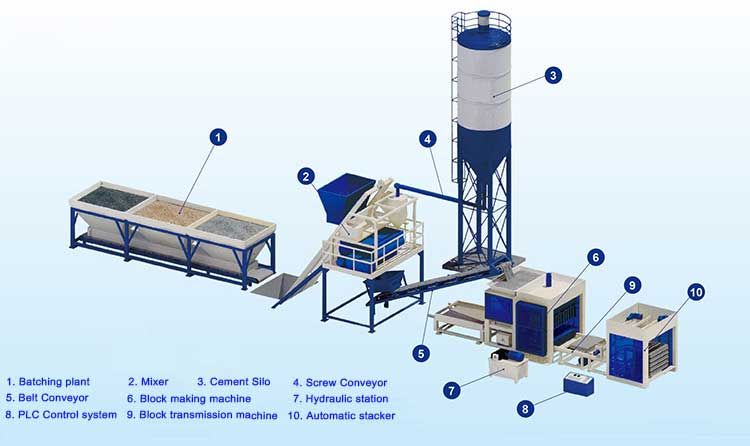 3. Vibration system: qt12-15 cement brick making machine adopts German frequency conversion technology and main engine frequency conversion control. The vibrator assembly adopts oil-immersed type, which improves the transport speed and makes the concrete instantly fully liquefied and exhaust. The life of the bearing is more than doubled. Vibration assembly synchronization, soft start function, improve the brick density, more power saving, forming fast five advantages.
4. Continuous innovation and excellence: this model has outstanding energy-saving performance, and one machine can do more than one thing. It USES large displacement hydraulic pump, and the system runs fast and has high production efficiency.
Violent vibration of high quality qt12-15 cement brick making machine, easy to appear flywheel friction belt fall off, screw loose, hammer head abnormal drop accidents, resulting in safety accidents. In order to ensure safety, the correct use of cement brick machine should pay attention to the following three points: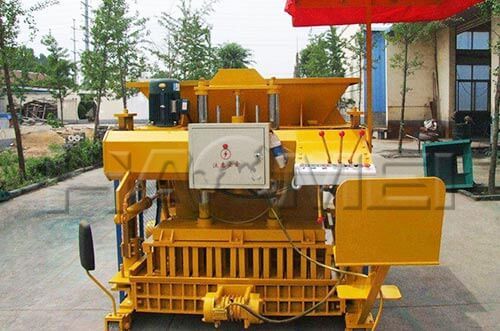 Correct Operation Of Cement Brick Making Machine
1. Pay attention to maintenance. The life of the cement brick machine depends on the maintenance and maintenance of the main parts of the normal work, so we must regularly check the cement brick machine. There may be some small problems at the beginning of using the brick machine, which can not be ignored. After the use of a period of time, can reduce the number of inspection of the cement brick machine, but must be inspected regularly.
2. In order to ensure the normal use of the machinery, the construction period shall not be delayed. Remind enterprises to store spare parts which are easy to wear in the warehouse. Broken parts are often a lot of work. In the process of use should carefully observe the operator, timely find abnormal conditions, to ensure safe operation.
3. Before using the cement brick machine, check carefully before use. Non - professional operators are not allowed to operate the equipment.
Secondly, in order to scientifically manage the cement brick machine equipment, qt12-15 cement brick making machine supplier should establish the equipment management system, the equipment use and maintenance system, the equipment maintenance system, the equipment accident management system and so on.
Brick Sample Application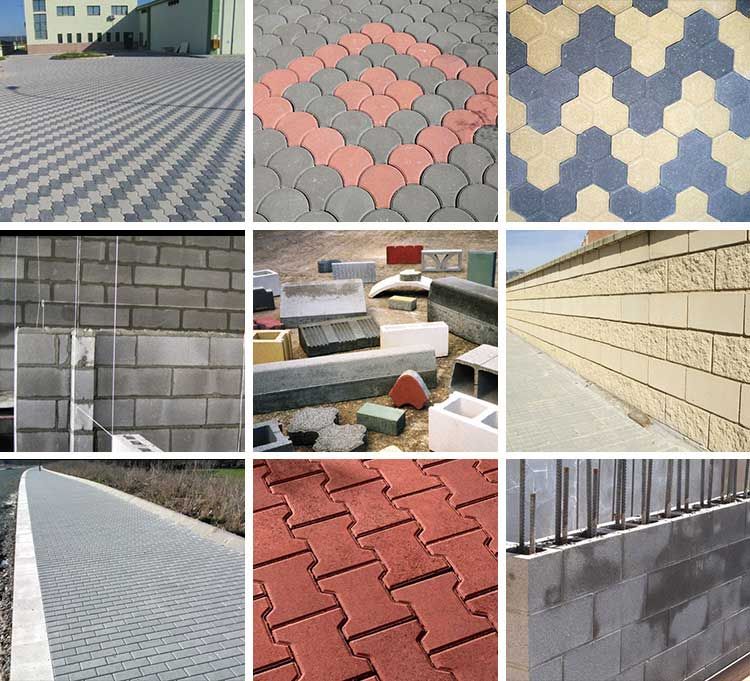 The above are some applications of qt12-15 brick machine products, if you need a brick machine, you can contact us. We are a brick maker manufacturer with 20 years of experience, can customize almost all the brick types you need. Contact us today!
Cement Brick Making Machine Damage Of Four Points
1. The operation mechanism of the cement brick machine should be sensitive and easy to operate.
2. The necessary safety protection devices shall be equipped with protective covers, railings or grilles of dangerous equipment. All safety devices should be installed to avoid personal and equipment accidents. Safety devices include locking components, buffer devices and overload devices, limiting devices, pressure limiting devices, locking devices, braking devices, etc. All necessary alarm devices should be installed.
3. Good working conditions shall create necessary environmental conditions for the use, installation and maintenance of the high quality qt12-15 cement brick making machine. For example, the space in which the equipment is located should not be too narrow, the site should be clean and tidy, and should have good lighting.
4. Strengthen maintenance work to ensure the safety performance of the cement brick machine. In addition to designing and manufacturing equipment with excellent safety features, installation, maintenance and overhaul of equipment are also important, especially for equipment that is frequently welded and transported.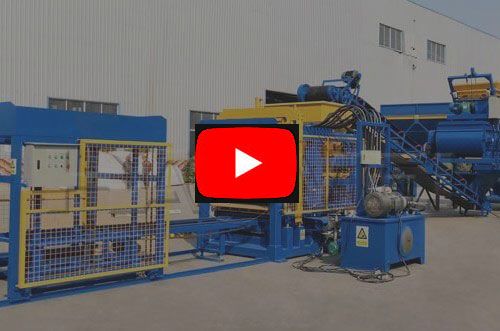 Protection Of Cement Brick Making Machine
QT12-15 cement brick making machine with quotation operators first familiar with the structure of the brick making machine performance and the operating sequence, and strictly comply with operation procedures, this also is the necessary condition to ensure safety in production, in the work, if it is found that serious leak or unreliable, baking-free brick machine noise or vibration and other abnormal phenomenon should immediately stop, analysis the reason and timely troubleshooting, forbidden to work in spite of illness.
The cement brick machine shall not be overhauled or mold adjusted during operation, and the electrical equipment shall be grounded reliably. It is an effective way to prolong the life and improve the production efficiency to clean and lubricate the brick machine regularly and carry out the maintenance system carefully.
QT12-15 cement brick making machine in stock is working in the open air environment, because the cement brick that just produced is still in the stage of solidification, so rainy day cannot start normally, especially in the south rainy season is very long, must do the waterproof work of brick-making machine.
First of all, before the onset of the rainy season to prepare a waterproof cover, the cement brick machine moving parts can be removed, placed in a dry place to save, reducer must be covered with waterproof cloth, to prevent rain into the machine to cause rust.
Next, the mold of brick-making machine should be removed to keep properly, good brush on anticorrosive paint, also brush on main machine on a layer of oil, prevent rust, then cover with waterproof cloth.
Finally, the hydraulic pump station of the cement brick machine can not be ignored, hot selling qt12-15 cement brick making machine analysis reason and timely rain water into the oil system very serious consequences, fully make waterproof measures, such as the rainy season after the end of the production.
Main Technical Specifications

Overall Dimension

9350x2520x2950mm

Rated pressure

21Mpa

Main vibration form

Platform vibration

Cycle Time

15-25 seconds

Vibrating Frequency

2800-4500 rolls/minute

Motors Power

63.5 KW

Pallet Size

1350x900mm

Raw Materials

crushed stone, sand, cement, dust and coal fly ash, cinder, slag, gangue, gravel, perlite, and other industrial wastes.

Applied Products

concrete blocks, solid/hollow/cellular masonry products, paving stones with or without face mix, garden and landscaping products, slabs, edgers, kerbstones, grass blocks, slope blocks, interlocking blocks, etc.

Applied Fields

widely used in buildings, road pavings, squares, gardens, landscaping, city constructions, etc.